Standby Generator Installation in Port St. Lucie
Affordable Solutions to Power Outages in South Florida
A sudden power outage is extremely stressful and can even be a safety risk for your family. Backup generators are designed to provide power to just a few appliances or your entire home. Excel Electric offers installation and service for generators in Port St. Lucie and throughout Martin and Palm Beach Counties.
As the highest rated electric company in South Florida, we'll help you make the right decision when it comes to which generator is best for your needs and budget. With top-quality brands such as Generac and Briggs & Stratton, we'll make sure you're prepared when it matters most!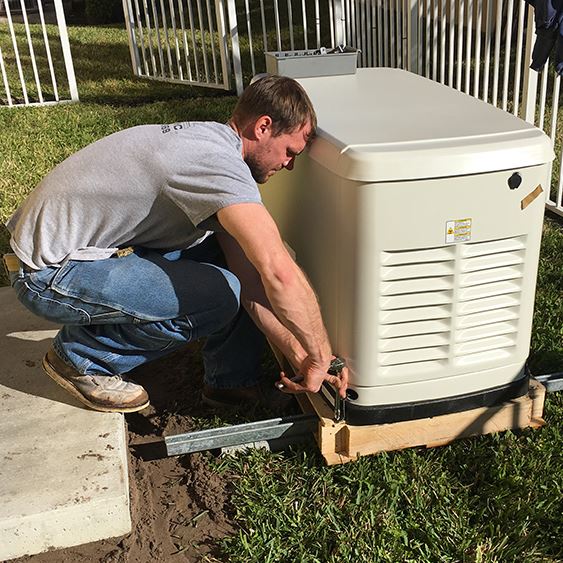 ​With the best warranty around at 10 years for Briggs and Stratton Power Protect DX Models why settle for the 5 year limited warranty of other generators?! Call (561) 459-8825 or reach out online to schedule a standby generator installation in Port St. Lucie!
How Standby Generators Work
Standby generators provide a reliable source of backup power during an outage. The generator is installed on a concrete slab and connected to the home's electrical system. Standby generators can be powered by either natural gas or propane. When the power goes out, the transfer switch is activated, and the generator turns on automatically.
At Excel Electric, we not only handle installation services for your standby generator, but as a fully-licensed GAS contractor we can also install the necessary underground liquid propane tanks to fuel the generator or hook up the system to the natural gas lines. We are the only team you need to call for expert installation services!
Benefits of a Standby Generator
Attempting to remain in your home and get through an extended power outage can be dangerous without a source of backup power. The food in your refrigerator will spoil, your appliances won't work, and the temperatures can quickly become intolerable without air conditioning. A standby generator takes over immediately so that you can ride out the outage in comfort.
The benefits of installing a standby generator include:
No interruptions to your daily routines with whole home backup power
Air conditioning continues working
Preventing food from spoiling
Power for water and electrical appliances
Reliable power for necessary medical equipment
The service professionals at Excel Electric provide standby generator installation in Port St. Lucie. We are a proud Generac and Briggs & Stratton dealer, offering straightforward pricing and exceptional services from detail-oriented professionals who take the time to make sure the work is done right. You can count on us to help you find the perfect generator for your home and make sure it is properly installed.
Gas Electric Installed We Do It All!!!
Standby Generators vs. Portable
When the power goes out in your Port St. Lucie home it's important to have safe, reliable backup power. During hurricane season many people flock to hardware stores to pick up portable generators, but for most it's more beneficial to invest in installing an automatic standby generator.
Key differences between standby generators and portable generators:
Standby generators are permanently installed outside your home and kick on automatically as soon as the power goes out. Portable generators are able to be moved from location to location.
Standby generators can dole out a lot more power and are able to provide power to important systems such as refrigerators and HVAC units. Portable generators are only able to power the things they are plugged into using extension cords. Portable generators do not provide enough power to run heating and cooling systems.
Standby generators are safer to use for computers and television sets because the power they deliver is more consistent. Portable generators can damage sensitive electronics.
Depending on your particular needs, a portable generator may be the better option for your home, but if you are looking for a system that can deliver safe, consistent, automatic power and can allow you to use your AC system during a power outage, you should consider investing in a whole home automatic standby generator.
Contact us online today at (561) 459-8825 to schedule an expert generator installation service in Port St. Lucie!
Honest Electricians with Integrity There's A Reason We Have The Best Reviews In South Florida
"I am happy to unreservedly recommend Excel Electric"

Corey Dohring was the electrician that Excel sent. I called Tuesday afternoon and he was here Wednesday morning at about ...

Craig D.

"Explained the issues he found and gave me reasonable options"

Very prompt service. Corey was very friendly, explained the issues he found and gave me reasonable options for addressing ...

Teri B.

"Work was stellar and the price was very reasonable"

Cory showed up on time and was extremely easy to work with. He was very patient with me while he was installing 7 new lights! ...

Lisa N.

"Great Service!!"

I will definitely call him in the future for all my work!!

Deb G.

"Highly Recommend!"

He was extremely professional and amazingly fast.

Dennis M.

"Handled the installation in a timely manner, providing an explanation of protocol"

Excel Electric sent Lance Wiedenheft, one of Excel's skilled electricians, to our house to install a transfer switch for an ...

Patrick W.

"They made me feel very important"

Amazing company, great customer service and the service technicians were very knowledgeable and prepared when they came out ...

Tina F.

"We were impressed with his knowledge, speed, and professionalism and courtesy"

John from Excel Electric just left after a somewhat challenging installation of a light over our kitchen island. He handled ...

Edward P.